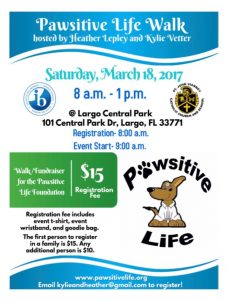 I am very proud of some of these 8th grade students who are completing their 8th grade I.B. (International Baccalaureate) Community Projects. One special group has created "The Pawsitive Life Walk". This Walk, hosted by two students, is to raise money for a 501C3 non-profit organization dedicated to training rescued dogs for early cancer detection in humans.
"Saving lives at both ends of the leash!"
If you live in the Tampa Bay Area…please gather your doggies and join us at Largo Central Park, 101 Central Park Drive, Largo, FL 33771.
For more Information email: [email protected] or call 727-201-7715.